_____________________________________________________________________________________
___________________________________________________________________________
 
Start: Nov 30, 2018 03:30 PM
End: Dec 02, 2018 01:30 PM
Ort: University College London
Conference Abstract
All psychoanalysts must struggle with a tendency to forget, to neglect or to under-estimate the power of the Oedipal situation and the many positions possible in its triangular relationships. However, particularly at times of crisis or developmental transitions, or when childhood events have served to confirm the imagined effects of oedipal impulses, or when incest taboos have been transgressed, they have major expressions and consequences for an individual's mental life, development and relationships. The topic of the 2018 UCL Psychoanalysis Conference is how we think about oedipal issues and their inescapability in the analytic situation, in development, in mental distress and disorder, and in life in general.
Main Speakers
Denis Flynn | British Psychoanalytical Society
The Oedipus Complex, Alienation and Loss of Psychic Structure
Francesca Hume | British Psychoanalytical Society, and Tavistock and Portman NHS Foundation Trust
Oedipus Wrecked: Rejecting and reclaiming the mother
David Taylor | British Psychoanalytical Society, Tavistock and Portman NHS Foundation Trust, and University College London
Forbidden Fateful Affinities: Oedipal love, hate and guilt
Friday Clinical Seminar Leaders
Robin Anderson, David Bell, Donald Campbell, Denis Flynn, Peter Fonagy, Francesca Hume, Chris Mawson, Irma Brenman Pick, Gigliola Fornari Spoto, Mary Target, David Taylor, and David Tuckett
Læs mere > > The Repression and Abandonment of Oedipus
___________________________________________________________________________
European Psychoanalytic Federation – EPF – Annual Conference in Madrid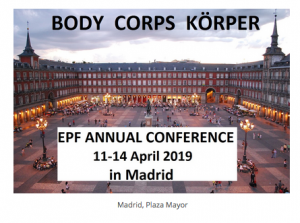 Presentation
The 2019 Annual Conference of the EPF will be held from 11th to 14th of April 2019 in Madrid.
At our conference, we will devote ourselves to very different aspects of the relation between body and mind from a psychoanalytic point of view. Of course, one central issue will be the suffering in the body and expressed through the body, be it in form of a meaningful conversion or as psychosomatic pain, as skin affection or as psychotic disintegration of a coherent body image. We will also deal with the subjectively false body in transsexualism. Another aspect relates to the implications of organ transplantations. Of further importance are contemporary phenomena like the increase of body modification such as tattoos and piercings, signalling the wish for visible mind-body individuality, but also the disappearance of the body and of inter-corporeality in the virtual space of the internet.
In contrast, psychoanalytic efficacy research has made a focus of attention the analyst's body experience during sessions: awareness of one's own body sensations can open a path to the analysand's corporeally anchored remembrances, his embodied memories. Finally, we want to examine if analysts can profit from empirical research on artificial bodies, the mobile systems of robots, where we can study directly the changes in their neuronal networks generated by acting and interacting.
To open the full program including timetable and all further information click on the following link:
____________________________________________________________________________________________
IPA 51st Congress London 2019                                    24th – 27th July
                     The FEMININE

Psychoanalytic theory and practice both have
a part to play in addressing the question of 'the feminine'.
Our goal for thi s Congress is to focus on issues that affect the everyday life and experiences of both women and men.
Since the late nineteenth century, concerns and
problems related to the female condition, which were previously normalised or silenced, have become increasingly visible in different cultures.
Læs mere >>  The Feminine